How to choose this product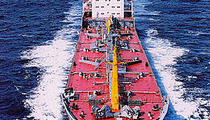 An oil tanker is a ship designed to carry large quantities of of oil. Its cargo hold consists of one or more separate tanks. Cargo is loaded dockside by gravity or special shore pumps, and offloaded using on-board pumps. Size categories include handysize, panamax, aframax, suezmax, VLCC (Very Large Crude Carrier) and ULCC (Ultra Large Crude Carrier).
Applications
Although these vessels are designed to carry crude oil, they are also suitable for gasoline, aviation fuel, kerosene, paraffin and other refined products.
Technologies
Such ships are designed with several separate cargo tanks. They are subject to many IMO regulations, and all new oil tankers must have double hulls. Typically, ballast tanks and cofferdams surround the cargo holds, offering extra protection. Oil tankers are fitted with inert gas systems in order to create a non-explosive atmosphere within the holds.
How to choose
Operational area and route length, type of cargo and carrying capacity are among the many factors affecting choice. Large tankers usually carry crude oil, while smaller vessels are used for refined petrochemicals, which occupy less space.
Advantages
- Great cargo capacity
- Fast cargo operations
Disadvantages
- Dangerous cargo
- Requires specialized terminals