How to choose this product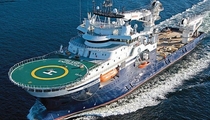 An offshore construction vessel is fitted out with equipment and technology necessary for the offshore construction of platforms, wind generators and other structures.
Applications
These vessels are used for all manner of offshore construction work. They also carry out maintenance of offshore installations.
Technologies
Offshore construction vessels generally carry cranes and davits for handling construction equipment and materials. Some have helipads. They usually have a bow superstructure with a broad work deck running aft. Most have azimuth propulsion and dynamic positioning systems, enabling them to remain stationary during the work.
How to choose
Choice will depend on vessel dimensions, equipment such as cranes, booms, davits and winches, propulsion type, navigational systems, which may include dynamic positioning, and similar operational factors.