How to choose this product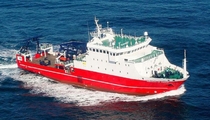 An oceanographic research vessel is fitted out for the study of the biological, physical, chemical and geological properties of the marine environment.
Applications
These vessels are equipped to study biological, physical, chemical and geological processes in the world's seas and oceans.
Technologies
Such craft carry the technology appropriate to the specific tasks of their missions. They generally have an on-board laboratory. Some have specialized davits for handling submarine robots or remotely operated vehicles (ROVs).
How to choose
Many factors will influence choice of vessel. These include dimensions, type of propulsion, crew capacity, available deck gear and similar operational characteristics.