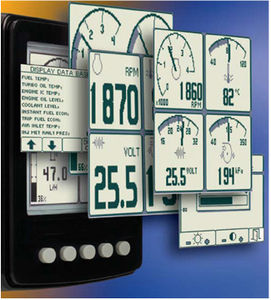 1 photo
boat navigation display / multi-function GEM - Generic Engine Monitoring Display

Generic Engine Monitor (GEM) CANtrak displays transmitted J1939 and J1587 engine and transmission data, active and stored alarms where supported, plus is a trip and fuel computer. The GEM application runs on the renowned CANtrak 7200/7210 robust industrial graphical displays. The GEM offers user selectable icon based display layouts as well as including a comprehensive multi language text...

2 photos
How to choose this product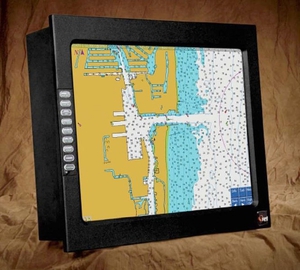 A navigation display shows electronic charts in addition to other useful data. It is nothing more than a monitor which is compatible with other on-board electronic devices.
Applications
Such screens can be used to display any type of data so long as there is a suitable port and sufficient definition. They often display radar imagery on large vessels and GPS chart plotter data on smaller boats. It is possible to display different types of information simultaneously, for example water depth and position.
Technologies
There are TFT, LCD and LED screens. Touchscreen capability is often a useful feature.
How to choose
Choice will depend on the nature of the input signal and the type of connections already present on board, including VGA, Composite, video camera, audio, DVI and radar. Other factors include readability in direct light and screen definition. Those mounted on deck should be waterproof.
Advantages
- Multiple data display