The Online Boating and Maritime Exhibition

quick-release snap shackle
Available finishes Electrogalvanized Application areas Industry Hardware Nautical Agriculture Emergency Note Commercialized product

snap shackle with swivel
S0455 series
The Swivel Eye Hook is ideal for light duty marine and industrial applications. This swivel hook features a removable latch. It is precision cast and made from 316 stainless steel for maximum corrosion resistance and durability.
See the other products
Suncor Stainless

asymmetrical snap shackle
CB-1
length: 4 width: 7/8 weight: 5 oz shackle: Safe working load 2000 lbs

snap shackle with screw lock
2603 series

snap shackle with swivel
148131
See the other products
Sea-Dog Line

standard snap shackle
pompier
See the other products
Mondial Plaisance Industrie

standard snap shackle
AUTOMATIC
ABOUT STAINLESS STEEL AUTOMATIC SNAP Automatic snap made from 10mm stainless steel.

snap shackle with eye
MR0333-0003
Eye Swivel Snap Shackle/ High Polished Stainless Steel - AISI 316

standard snap shackle
B2311
Description Solid Brass with polished finish. This Round Eye Rigid Quick Snap is one of many top quality items in our Snaps & Rings department.
See the other products
YCH Ind. Corp.

standard snap shackle
37151
Rugged, heavy-duty nickel plated. Snap hook with spring loaded safety snap to prevent hook from unhooking. 5/8" eye with 9/16" snap ID.
See the other products
SEACHOICE

snap shackle with shackle
T5 - CB
Tylaska T5 Snap Shackles are perfect for small boat applications requiring high strength and low weight. They have a breaking strength of 5,000 lbs and weigh just 2.2 ounces in the standard bail configuration. ...
See the other products
Tylaska

See the other products
East Brightness Hardware

snap shackle with screw lock
Spring
See the other products
Shandong Province Yangxin Hvtong Metal Products Co.,Ltd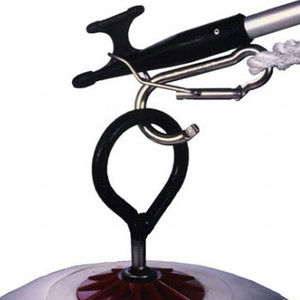 quick-release snap shackle
Let's Go Line