How to choose this product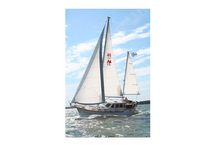 A motorsailer is a leisure craft with sail and motor propulsion. The hull is specially designed for such polyvalence. The motorization is more powerful than that of standard sailboats.
Applications
Motorsailers are generally for long-distance cruising. The ability to use motor-propulsion in the absence of wind is a major advantage. Smaller models are ideal for afternoon trips and coastal cruising.
Technologies
These sailboats' motorization isn't merely auxiliary; it can be used as an independent propulsion system.

They feature large-capacity tanks and reliable, professional-standard engines. Motorsailers are quite autonomous, and feature hydrodynamic, semi-displacement hulls with a good speed/consumption ratio.

Such crafts are generally quite comfortable, and feature a large, panoramic wheel-house and spacious, well-organized inside areas.

Motorsailers aren't designed for close-hauled navigation -- the motor should be used when the craft reaches such speeds. Heeling is minimal.

Though composite materials can be used, they are generally made of metal (steel, aluminum) because of the motor and amenities' weight.
How to choose
A bar menu on the upper right-hand side of this page will allow you to browse crafts of different lengths.
Advantages
- Polyvalence
- Comfort on-board
Disadvantages
- Velocity whilst sailing
- Velocity whilst using the motor