How to choose this product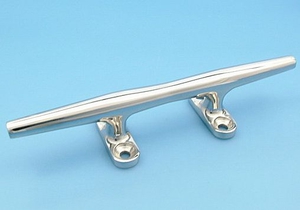 A mooring cleat is a fitting used to make lines fast. NauticExpo offers cleats for both boats and piers, and classified according to material including stainless steel, aluminum and teak.
Applications
These devices are used primarily to make fast lines of different diameters, depending on the size of the cleat. They are found on boats and on piers.
Technologies
Generally metal, such fittings can also be made of wood or plastic. The base is securely fastened to a boat deck or a pier.
How to choose
The diameter of the line to be handled will determine the size of the cleat.