How to choose this product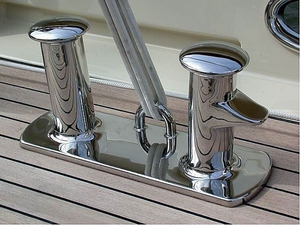 A mooring bitt is a fitting used to make fast lines, usually hawsers or towlines. NauticExpo offers a wide variety including double bitts and pier bitts, and those made of steel or aluminum.
Applications
These devices are designed to make lines fast. They are found on boats and piers, in ports, marinas and similar facilities.
Technologies
The bitt consists of one or two metal cylinders on a base which is solidly anchored to the deck. Design varies, including straight, inclined and cruciform models.
How to choose
The type, size and dimensions of the boat, as well as the kinds of lines and hawsers to be handled will determine choice of mooring bitt.