Medium-speed engines for ships
18 companies | 141 products
How to choose this product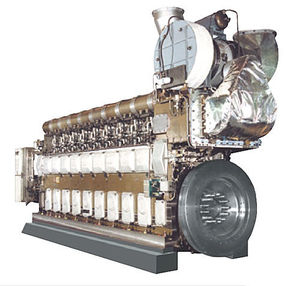 A medium-speed engine is a diesel engine which runs at 350 to 1250 revolutions per minute (rpm). It can use high-quality fuel or heavy fuel oil, depending on the engine's characteristics.
Applications
Such engines usually are used as auxiliary engines or to generate electricity.
Technologies
These engines generally are smaller than low-speed models. Newer versions often are four-stroke. Cylinder bore is between 225 and 600 millimeters, each delivering 130 to 1500 hp. The larger ones can use high-sulfur fuel and have a separate lubricating system for each cylinder. Smaller models use lighter fuel and a crank splash lubricating system. Some large, V-block medium-speed engines can produce up to 30,000 hp.