The Online Boating and Maritime Exhibition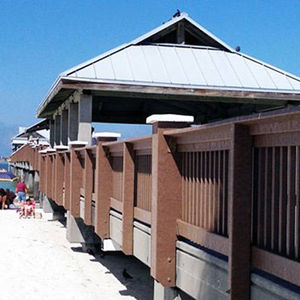 FIBERFORCE® plastic lumber products are manufactured from high quality recycled HDPE (High Density Polyethylene), ultraviolet stabilizers, colorants and fiberglass strands to increase rigidity. This added rigidity creates characteristics ...
See the other products
Bedford Technology

... Dock Fender and Bracket Design: We've designed a new dock fender & aluminum bracket to offer our customers a high end option for their fender needs. The design of this new upscale bracket ...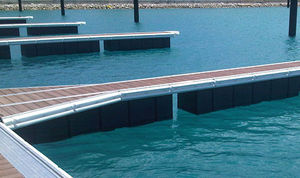 ... additional element for a superior level of equipment, we have a wide range of perimeter fenders made with PVC, EVA or HPDM with different designs which allows to customize the marina to the customer ́s ...

marina fender
PANTALAN SERIES
This special fender avoids heavy blows when coming the boat alongside the dock. Specially built to withstand the harsh marine environment. The dock fender is an important "bumper" that can be mounted ...
See the other products
Castro

FEATURES UV protected Polyester textile cover Cleans easily . mount on curves or around corners SMALL DOCK AND POST BUMPER 3 5/8″ W x 1 1/4″D Perimeter products utilize a 100% polyester textile fabric. These Small Dock and Post Bumper ...
See the other products
Boat Hoist USA

marina fender
2x 4′ Tri-Color Kit
DESCRIPTION You will receive two (2) 4'* sections, 8'* total to place anywhere on your dock. Great for the customer who is looking for incredibly easy to use and install. Create Red, Green or Blue light by simply plugging the lights ...
See the other products
Jellux Advanced Marine and Outdoor Lighting

Description Protects boat and dock from impact against the corner of the pontoon. Fixed with screws or nails. Size: 25cm x 25cm.
See the other products
A-Laiturit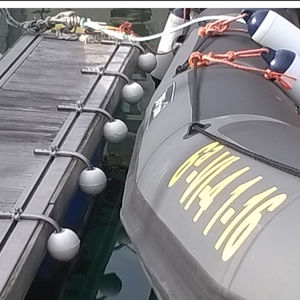 marina fender
Fender rotatable EVA Finger Dock. (Set 5 units)
... the time of docking the ship enters only with its own inertia. When the boat touches the bow, or corresponding quarter, fender rotary and absorbs the impact tour channeling to the boat mooring. Unlike an inflatable ...

Dock Bumpers Polyethylene construction 3 feet of adjustable height available in vertical or horizontal design available in white or black easy to fasten to side frame on dock

DockEdge+ Premium PVC products are the best line of PVC bumpers available on the market today. Our PVC products also provide greater protection for bathers against splintering and skin abrasions.
See the other products
Dock Edge

The Ring Bumpers from NIBS France are based on the same principles as mobile dock fenders and designed for maximum lifetime. Their production responds to the quality standard ISO 9001. The high-end materials make it a ...

... operator of genuine Yokohama brand pneumatic fenders. In addition to Yokohama floating fenders, we are able to offer our own brand of Hippo floating foam fenders along with a broad ...
See the other products
FenderCare

Barbour Plastics' Urethane Foam Dock Bumpers are a great new product offering for marinas, dock builders, home docks, and even boat builders too! We now have both a 4 inch wide Heavy Duty Dock Bumper and a 10 inch ...

Soft PVC floating dock corner bumper rivets to deck surface and protects your watercraft from the corner of the dock.
See the other products
FLOE INTERNATIONAL, INC.

... low reaction force; 3. Easy installation. Advantages: π type rubber fender is one kind of modular fender; π rubber fender system is made of this type of fender. This ...

marina fender
FRAME BUMPER
Wahoo Docks proprietary Mainframe Bumper provides unparalleled protection for watercraft mooring. When placed around the perimeter of a dock, it allows boats to moor any place on the dock in a safe, protected manner. Durable HDPE ...
See the other products
Wahoo Docks

marina fender
Sistema Zero Modular
The Sistema Zero Modular Dock Fender. Made from specialized EVA foam designed for marine use. Made to permanently attach to any dock and keep your boats protected. Modular design allows for installation around corners. ...
See the other products
Aere Docking Solutions

marina fender
9353X series
Attwood's Dock Fenders carry an industry-best lifetime guarantee against splitting, cracking, chalking or deflating. Ideal for boat docks and swim rafts Designed with SoftSide technology Low-profile soft ...

Flexible PVC pontoon fendering with a 135mm base with a nominal height of 40mm. Manufactured in a UV stabilised, phthalate free, and 100% recyclable compound, our products are as kind to the environment as possible whilst delivering ...
See the other products
Wilks