How to choose this product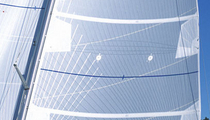 A mainsail is hoisted along a vessel's mainmast, the aft mast on a two-masted schooner, the forward mast on a ketch, or on the single mast of a sloop or cutter.
Applications
There are triangular mainsails for Marconi rigs, as well as gaff mains for traditional rigs. Either can be designed for cruising or racing.
Technologies
Mainsails are defined by material and cut, which determines the shape.

Cross-cut sails consist of several horizontal panels sewn together. In radial and tri-radial sails the panels are arranged in a star pattern originating at the corners, allowing the different parts of the sail to assume efficient shapes as a function of airflow. Molded sails are made from exotic fabrics laminated in a 3D mold, providing great stiffness and excellent performance at the cost of limited durability.

Numerous different fibers are used by modern sailmakers, including Dacron®, polyester, Spectra®, Kevlar®, carbon and Cuben®. The fabric can be woven or laminated, single- or multi-fiber, light or heavy. Other options include reinforcing, short battens or full-length compression battens and reef points. Some mainsails are designed for use with mast or boom roller furling.
How to choose
Choice runs the gamut from a simple, triangular, cross-cut Dacron® sail for occasional short cruises to the most sophisticated molded carbon fiber gaff mainsail for racing. Sailmakers will indicate the best type for the intended use. Racing mains must comply with rating rules for the vessel class.