Low speed engines for ships
4 companies | 47 products
How to choose this product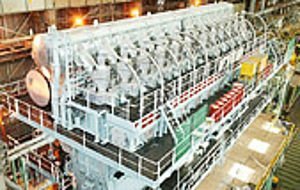 A low-speed ships engine is a diesel engine which operates at less than 350 revolutions per minute (rpm). Normally, it is a two-stroke engine burning low-grade fuel.
Applications
These engines are commonly used to power ships, since they generate great power.
Technologies
Such engines are very large, with cylinder bores between 700 and 1060 millimeters. Each cylinder can generate up to 4500 hp. Diesel engine fuel is ignited by pressure. Since diesel fuel contains high levels of acid-forming sulfur, each cylinder is individually lubricated with high-alkaline oil to prevent corrosion of piston rings and cylinders.
How to choose
Choice will depend on available engine room space, ship power requirements, operating rpm, type of fuel and similar factors.
Advantages
- Powerful
- Economical
Disadvantages
- Bulky
- Fuel requires pre-treatment