How to choose this product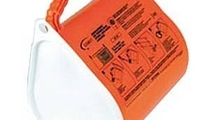 A line thrower is a rescue device which can accurately propel a line up to 230 meters in good weather.
Applications
These devices offer much greater range than throwing a line by hand. They are used in emergencies to join lifeboats and rafts together or to pass a tow line from one vessel to another.
Technologies
The line thrower's two components are the projectile and the attached line which will link the two vessels. The launching device is pointed toward the target and fired. When there is only one projectile and one line, they are protected by a waterproof case. Some versions are pneumatic.
How to choose
Line throwers must comply with SOLAS regulations.
Advantages
- Great range
- Compact