How to choose this product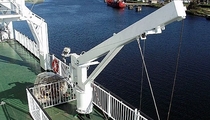 A life raft davit is simple, generally operated by hand without need for an electric motor. It consists of a pivoting arm holding a cable with a hook at its end.
Applications
These devices are used in emergencies to lower life rafts over the side of a vessel.
Technologies
Both the davit pivot mechanism and the launch cable are usually operated by manual crank rather than a motor.
How to choose
Life raft davits must meet specifications and requirements stipulated in the SOLAS treaty.
Advantages
- Manual operation