How to choose this product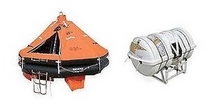 A liferaft is a self-inflating survival craft used when abandoning ship. It protects shipwrecked occupants awaiting rescue.
Applications
These craft are found on all recreational vessels sailing a certain distance from the coast, as well as on ships and commercial boats, in accordance with rules issued by maritime authorities of the country of registration.
Technologies
In recreational boating, there are coastal models without survival gear and high-seas versions equipped with food, water, fishing gear, knives and other useful items. They are stored in a bag or a rectangular container. Professional rafts are housed in cylinders on cradles, and can be launched from the deck via a slide. Capacity varies immensely, from four to over 200 persons for those carried on passenger vessels.

Rafts usually have pontoons which inflate automatically from hydrostatic pressure when they hit the water, or manually by pulling on a cord. They have an insulated double bottom to ward off hypothermia. Most have a tent to protect occupants from sun and rain. Generally, they have seawater ballast and are self-righting, since they tend to overturn in heavy seas.
How to choose
Choice will depend first on the raft's certification, which must correspond to the vessel type. ISO norms suffice for leisure craft, while certain ships must respect SOLAS regulations. Raft capacity and coastal or offshore class are also significant criteria.