Lifebuoy lights for ship
How to choose this product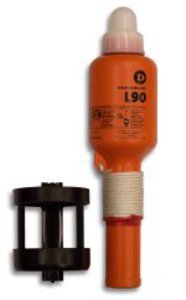 A ships lifebuoy light is a waterproof light attached to a lifebuoy. It activates itself in the water when it reverses position. Not less than half the total number of lifebuoys carried on board must be fitted with self-activating lights. They can be either continuously burning or flashing lights, and must remain lit for at least two hours. They also must comply with SOLAS regulations.
Applications
Such lights automatically come on whenever the attached lifebuoy is thrown into the water. This is particularly useful during man-overboard incidents at night or in low-light situations. The victim is easier locate, increasing chances of rescue.
Technologies
The light has a brightly-colored, high-visibility protective case capable of withstanding the drop into the water from the height at which it is stowed. Once in the water, a counterweight maintains the light in an upright position, completing a circuit that activates the light.
How to choose
Lifebuoy lights for ships must comply with SOLAS safety regulations and must be certified by competent government bodies. Regular verification of batteries is essential.
Disadvantages
- Periodic battery status check
10
companies |
21
products (boat or nautical equipment)
Hansson Pyrotech
Applications For use in any man-overboard emergency situation from merchant marine to leisure boating. Design and function The IKAROS lifebuoy light is an externally mounted, self-activating...
Filter by :
› New products

(1)

› Products with video

(1)
Extend the search
Search by manufacturer
Search by catalog