How to choose this product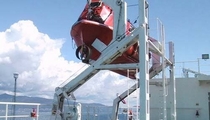 A lifeboat davit is a shipboard launch and retrieval device. Configurations include gravity crane and free-fall.
Applications
This gear is found aboard all ships whose certification or governing regulations, such as SOLAS, require the presence of lifeboats.
Technologies
Some davits take the form of single or double articulated arms resembling a small crane. Others are inclined rails, like a slide. The slides are made of polypropylene or polyacetate, and are designed to minimize lifeboat acceleration during launch. The slope of the track can sometimes be adjusted.

Certain versions combine both crane and rail systems, since wind and sea state can render free-fall launch impossible. Articulated arms are generally hydraulic, sometimes electric. Davits are configured for stern or side installation. Most come with a control panel.
How to choose
Davits and lifeboats must conform to SOLAS or other applicable regulations. Most davits are designed for a specific type of lifeboat and cannot be used with any other. However, certain multipurpose models are suitable for a wide range of craft. Plan davit installation location carefully.