How to choose this product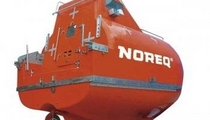 A lifeboat is designed to carry the crew and/or passengers of a freighter, a yacht or other vessel to safety in case of shipwreck or danger.
Applications
The international SOLAS treaty precisely defines the obligations of shipowners and operators concerning the lifeboats their vessels must carry, depending on type of ship. For example, an oil tanker lifeboat must ensure the survival of its passengers in the presence of extreme heat or dangerous gases, for instance via exterior powder extinguishers.

Thus, lifeboats are specialized for use on a particular type of craft such as a freighter, a passenger ship or a yacht. The light, open lifeboats offered on NauticExpo are intended for rescuing people from a drifting raft or someone who has fallen overboard.
Technologies
Totally enclosed lifeboats (TELB) are the most common type aboard freighters. They can be launched quickly via a free-fall system. Once passengers are strapped in, the craft is released and slides into the sea along a track. It automatically rights itself at the water's surface. Such craft have engines, are unsinkable and may feature air tanks. Passenger capacity varies with model. Those designed for underwater rescue are equipped with hyperbaric decompression facilities.
How to choose
SOLAS regulations governing the type of ship in question must be observed. It is advisable to consult responsible authorities.