How to choose this product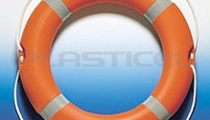 The lifebuoy is a flotation device in the shape of a ring. Passenger vessels are required to carry at least eight lifebuoys with lights that come on when immersed. In reality, they carry more than this minimal number.
Applications
Lifebuoys are an essential part of a ship's safety equipment. They are stowed around the deck such that they can be quickly thrown into the sea in person-overboard situations.
Technologies
SOLAS regulations cover technical requirements. In general, the lifebuoy is made of solid cork and painted orange or another high-visibility color, with reflective strips and grablines. Some have a lifeline, a floating automatic light or smoke flares. It is made of an inherently buoyant material. It should not be made of a loose granular substance, and should not require inflation.