The Online Boating and Maritime Exhibition

stand-up paddle board leash
Sumba
... Moon SUP Coiled Ankle Leash With a super comfortable padded Neoprene cuff you will forget you are wearing it. NO LEASH DRAG - The coiling eliminates leash drag totally (so no risk ...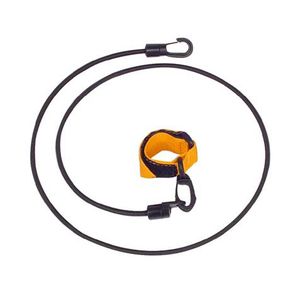 No kink, swivel action cord Attaches to deck rigging or sprayskirt grab loop Quieter and lighter than phone-cord type leashes
See the other products
Seals

The Harmony Paddle Leash will keep you from losing paddles during high winds, rough seas, or fast currents. A velcro paddle wrap and nylon hook allow you to secure your paddle to a deck loop or bungee and ensure your ...


The Scotty Paddle Leash now has a new, improved system for attaching our leash to your paddle, fishing rod or anything else you wish to secure. Simply wrap the strap around your paddle, thread it through ...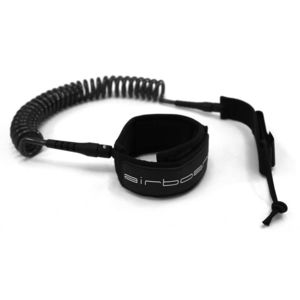 stand-up paddle board leash
Usage SUP Accessories Detail description Coiled SUP-leash, with key pocket at the ankle. Delivery contains SUP-Leash Sizes Model: 330cm (11') Weight: 300g

stand-up paddle board leash
Perfect for riders who want to make sure they are not getting any excess drag from their leash being in the water.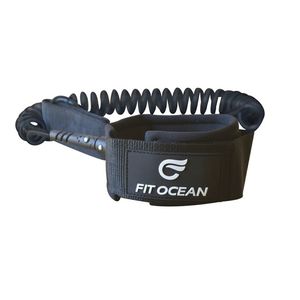 stand-up paddle board leash
Description Strong urethan leash Standard 8′ (240cm) size streched Coiled so does not drag through water Quick release ankle and quick release board Double swivle Nr. ACC-FOCOBL-17

Product Specification 2 metre coiled styled leash allowing for unrestricted movement. Can be used for paddles, rods, nets and items that need to be secured while in the boat. Velcro to paddle, plastic clip to ...
See the other products
RUK Sports

stand-up paddle board leash
Ankle leashes are important to wear if you are an inexperienced paddler, when you are paddling alone, paddling in windy & wavy weather conditions, or in the surf. Not to be used in whitewater or rapid current situations.

Light and simple paddle leash made of ø 4 mm bungee. Hook and loop closures secure one end to your paddle and the other to deck rigging. Simple leash for recreational use.
See the other products
Kajak Sport Components Oy

stand-up paddle board leash
STANDARD 9'
NSI's Standard 9' Calf SUP is what a SUP leash should be, comfortable, easy to use, built to last and NOT damaging to your board. NSI's Standard Calf Leash has a padded neoprene cuff which offers comfort ...

Save connection by 7mm-leash, very comfortable for the foot by use of thick neoprene padding. Available in various length, 7'/8'/9'.

- EVA foam protector - Stainless steel hook with neoprene cover - Easy quick release - Dyneema rope core
See the other products
Underwave

stand-up paddle board leash
1.5 m

This leash is designed for a secure descent along a cable or stabilizing its décompression position. Neoprene wrist strap with nylon lining for comfort. A quick release Velcro with a solid holding. Extra stainless Steel ...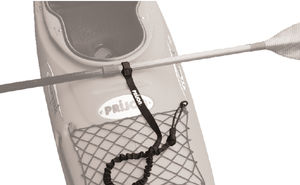 When the paddle gets lost, open waters can become very dangerous. Our sturdy paddle leash consisting of a 25 mm tubular strap with integrated rubber cord keeps your paddle safe to the boat. It is attached to the paddle ...

stand-up paddle board leash
Which leash should it be – and in which color? The coil leash for using on lakes or a straight leash for riding on waves? All come equipped with a comfortable strap and key compartment.
See the other products
INDIANA SUP

stand-up paddle board leash
8' COILED
Avoids drag caused by a trailing leash, Perfect for flat-water paddling This has been designed for flat water paddlers and racers who want to make sure they are not getting any excess drag from their leash ...
See the other products
Red Paddle

... COIL LEASH * Length: 3.6 m (12') * Two partdesign: Coil and straight part * Comfortable material fits your ankle * Coil leash keeps the paddle tethered to you, providing additional safety in the event ...

$45.00Safety on open water and in the ocean is paramount. Ensure you don't get detached from your craft with this super strong leg leash. The comfortable neoprene ensures a nice fit on your leg, and it features a quick ...

LENGTH 49' (15m)DIAMETER 3/8' (8mm)A simple yet effective method of securing the paddle during rescue situations. An adjustable Velcro waistband secures the three foot light line, with a camming buckle firmly attached to the paddle shaft. ...

stand-up paddle board leash
Flat water coil leash8'/7mm cordHeavy duty, double stainless steel swivels

... sport is (from big wave riding to racing), you will find a leash that fits you need. We have been working with many partners until we found the quality we had been looking for and this leash is made ...

FEATURES / 100cm / Compact Release System / Slim Sesign FABRICS / Polyester Dynema SIZES One Size
See the other products
Brunotti