How to choose this product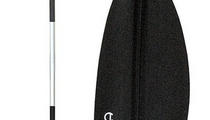 A kayak paddle enables the kayaker to propel and steer the craft.
Technologies
Paddles can be single or double, the latter with a blade at each end. Materials vary with use, recreational, touring or competition, and include aluminum, fiberglass, carbon or even wood. Efficiency depends on blade shape, which can be symmetrical or asymmetrical.

Some are suitable for flat sea or lake waters, while others are designed for whitewater use. Certain models have drip rings to keep the paddler's hands and the kayak interior dry. Two- or three-piece paddles can be disassembled to facilitate transport and storage.
How to choose
Carbon paddles, light and sturdy, are ideal for competition kayaking. Choice of single or double paddle will depend on the number of places in the kayak and specific use.