Kayak jackets
How to choose this product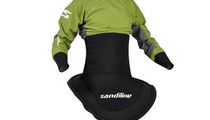 A kayak jacket is a protective garment covering the wearer's torso. It usually includes a spray skirt to close the gap between the kayaker and the deck.
Applications
These jackets are primarily used by white-water kayakers to keep water out of the boat. They are especially common in competition kayaking, particularly in cold weather.
Technologies
Such clothing is made from stretchy, waterproof fabric, such as nylon. High-tech versions may have several layers to protect against the cold, as well as moisture. Some are of breathable materials such as Gore-Tex® for the elimination of perspiration. The garment should be cut for maximum freedom of shoulder movement to facilitate paddling. Neoprene seals at neck, cuffs and the skirt-deck joint ensure a watertight fit. Jackets come with or without sleeves, depending on location and activity.
How to choose
Choice will depend on kayak size and model. A sleeveless model or a simple spray skirt is sufficient in warm weather. Breathability is an important factor for intensive use.
7
companies |
51
products (boats or nautical equipment)
Filter by :
› New products

(3)

› Products with video

(0)
Extend the search
Search by manufacturer
Search by catalog
Associated Terms
kayak vests, paddle tops, kayak coats