How to choose this product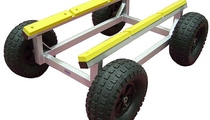 A jet-ski trolley makes it easy to handle the vehicle in a store, a port or on the beach.
Applications
The trolley is not authorized as a road trailer, though it can be towed on the beach, for example by a quad.
Technologies
This type of vehicle is often made of aluminum to save weight. It usually consists of a frame with four wheels and two pads to prevent the jet-ski from slipping. The wheels should be suitable for the area of use. Large, inflatable wheels are best for the beach, while simple cart wheels are suitable for hard surfaces.
How to choose
The type of wheel should be chosen as a function of the surface on which the trolley will be used. Often adjustable, the spacing and angle of the pads should allow the jet-ski to remain securely in place.
Advantages
- Facilitates jet-ski transport
- Avoids putting the jet-ski on the ground
Disadvantages
- Cannot replace a road trailer