How to choose this product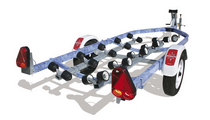 A jet-ski trailer is a towed vehicle for storing and transporting one or more jet-skis.
Applications
Such trailers are quite useful for those going on vacation with their own jet-ski, for nautical clubs and for competitive jet-skiers who may need to transport several machines to a race venue.
Technologies
A metal structure composed of welded or bolted tubes is mounted on one or more axles. A set of Teflon® or polyacetate rollers or skids is used to put the machine on the trailer and to hold it in place. Some have a winch to facilitate lifting the craft onto the vehicle.

The trailer is towed via a coupling device, and an electrical connection links the brake lights and turn indicators to the tow vehicle. Some have adjustable supports to accommodate any jet-ski type.
How to choose
Choice will depend on the dimensions, make, model and, above all, the weight of the jet-skis. Some countries have specific regulations regarding dimensions and gross weight of trailers towed on the road. A special driver's license is sometimes required.