How to choose this product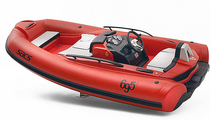 A jet boat tender is propelled by high-speed water jets, eliminating inefficiencies caused by cavitation and propeller wake. It serves the same shore/vessel liaison functions as other tenders.
Applications
The absence of a propeller eliminates the risk of endangering bathers or fouling on submerged obstacles, buoy and mooring lines. These craft are well-suited to towing sports, shallow-water boating and beaching. The unencumbered stern is ideal for bathing and retrieving water skiers.
Technologies
Water jet propulsion is suitable for rigid or rigid inflatable hulls, which must be designed for such a system from the start.
How to choose
Choice will depend on power, intended use (e.g., towing sports), capacity, aesthetics and stowage on board the main vessel. Other factors include features such as seats, console, Bimini or hardtop.
Advantages
- More efficient propulsion
- No danger from propeller
- Easily beached
Disadvantages
- Poor low-speed maneuverability
- Floating debris can foul intake
- Less reliable tracking