ISAF sailing catamarans
How to choose this product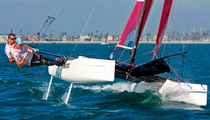 An international class sailing catamaran is a twin-hulled sailboat designed for inshore racing governed by international ratings rules.
Applications
While these craft can be used for recreational sailing near the coast, they are primarily intended for single-class racing and for sail training.
Technologies
Formula 18, Tornado (an Olympics class) and Hobie Tiger are among the internationally recognized divisions. These boats usually are double-handed and carry a mainsail, sometimes a jib, and a gennaker or spinnaker. The hulls are of polyester fiberglass, polyethylene or carbon. Class rules prescribe the authorized materials. The trapezes on each side permit the crew and sometimes the skipper to hike out in order to increase the righting moment.
How to choose
Certain classes are more common than others in a particular geographic zone.
14
companies |
32
products (boat or nautical equipment)
Filter by :
› New products

(0)

› Products with video

(5)
Extend the search
Search by manufacturer
Search by catalog