How to choose this product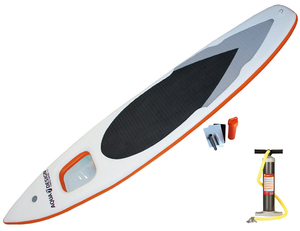 Inflatable stand-up paddleboards (SUP) are propelled by a standing rider using a single paddle. They are suitable for riding the waves, short trips or just for fun.
Applications
Such boards are perfect for those wishing to take a paddleboard on vacation, and for paddlers who like to move from spot to spot frequently. They can be used in calm waters, in lakes, in rivers, at sea and in the waves.
Technologies
Inflatable boards must be capable of withstanding frequent sand abrasion and possible impacts against rocks and other obstacles. Most are made of heavy-duty PVC, and are often covered with non-slip material. Some have fins to counter drift and improve tracking through the waves. Flat-water models generally have moderate rocker (board curve), while those for wave riding have more pronounced rocker.
How to choose
Many sizes exist. Specify your height and weight, as well as the characteristics of the water where the board will be used.