How to choose this product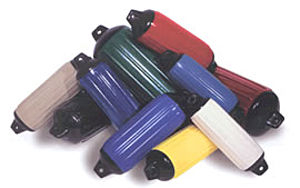 An inflatable fender absorbs the shock of contact between a boat and another object. Usually made of rubber, fenders come in a wide variety of shapes and sizes. NauticExpo offers three broad groups: inflatable boat fenders, pneumatic pier fenders and inflatable PVC boat fenders.
Applications
Such devices can be used on all types of boats and piers. It protects them from collision damage during docking and casting off maneuvers.
Technologies
This fender is a rubber cylinder, elongated or bulbous, with a valve at one end. The ends are usually reinforced by being made thicker and have an eye for attaching a suspension line. When squeezed between dock and vessel or between two boats, its deformation absorbs the energy of impact.
How to choose
Vessel size and displacement will determine the size of the inflatable fender.
Advantages
- Hull protection
Disadvantages
- Rub marks on topsides