The Online Boating and Maritime Exhibition

Length: 15.3 m
UNIQUELY CUSTOM As all Chasers are built in aluminium we can offer you a genuinely unique proposition in the market – RIBs that are custom built in every respect. From size to layout, from standard of finish to propulsion, every part ...

inboard inflatable boat
DNA44
Length: 13.46 m
... Or with smart - phone/ipad for a complete control of the board option. Mooring and towing is a no stress for the inflatable. Steering wheel in customized stainless steel.

outboard inflatable boat
HH420
Length: 4.2 m
The HH420 RIB was created to perfectly compliment our line of HH Catamarans. Designed and built to a high level of finish, this all carbon fiber RIB has been developed for performance and luxury and ...

Length: 3.2, 1.85 m
... resistance to the marine environment. And handling, implementation and on-board storage is easier, faster. We have designed, tested and validated all the materials and assemblies to achieve a weight up to 50% less than ...
See the other products
Orange Marine

outboard inflatable boat
520
Length: 5.25 m
Length overall 5,25 m Beam overall 2,32 m Draft (propulsion up) 0,30 m Max. outboard motor 90 hp Max. number of persons 6 Displacement light (with no motor) 220 kg Max. load 550 kg Fuel tank capacity 90 l Max. ...
See the other products
Caravela Boatbuilders sp.k.

outboard inflatable boat
TL 240
Length: 2.4 m
Super light & strong alumnium hull purpose built for davits makes this the perfect tenderIdeally suited for beaching roles & long term tender use Standard Features: 2-tone white and light grey tubes with 5 grab handles and 4 fabric ...
See the other products
Ribeye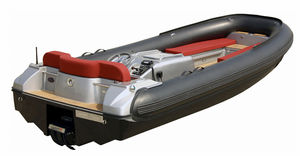 hydro-jet inflatable boat
JET TENDER 15
Length: 4.58 m
... core Stringer System: Sandwich structure, hand laid Kevlar and vinylester resin with polyurethane closed cell foam core Inflatable tube: Hypalon/Neoprene coated polyester fabric 1100 Dtex with No. 5 separate airtight compartments
See the other products
Castoldi

outboard inflatable boat
410G2
Length: 4.1 m
... switch panel W/breaker - Bilge pump W/float switch - Ultra Leather upholstery - Battery switch - Seadeck Tube - Hypalon inflatable tube - 18" tube diameter - Non-Skid Pad - Heavy duty rub strake - Internal life line - 4 air chambers
See the other products
PURE Yachting

outboard inflatable boat
F 40 / F 45 / F 50
Length: 3.93, 4.45, 5 m
... The F 40 boat is ideal as a dinghy for use on large yachts. All three models of boats have lifting eyes as standard. Will not ever go on plane and be on the road as you displacer, ...

outboard inflatable boat
HITEK 65
Length: 6.58 m
Specifications: Overall length 6,58 m Extreme breadth 2,5 m Transom deadrise 21° Transom height 594 mm Weight without engine and fuel 650 kg Load capacity 1000 kg Compartments 5 Engine type outboard Maximum engine power 131 kilowatt (175 ...
See the other products
EK Marine

Length: 7.7 m
... platform ideal for a wide range of applications. Specially selected by the US Navy, the 7M RIB is now available for all US Partner Nations via FMS cases. The 7M RIB is available with twin gas outboards, ...

outboard inflatable boat
DR560
Length: 5.6 m
Family two-colour touring boat whose compact size makes it towable and allows it to be launched from ramps. It comes with a large bow locker, an attractive synthetic Teka finish and a built-in 100 litre tank under the ...
See the other products
Vanguard International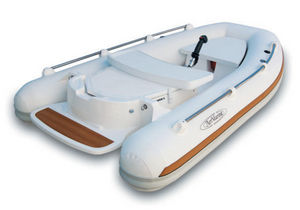 hydro-jet inflatable boat
Length: 2.5 m
Aermarine produces four models of jet dinghy from 2.50 m to 3.20. However we believe that the Jet engine is not the ideal solution for creating a true dinghy these models are then made only on request ...
See the other products
Aermarine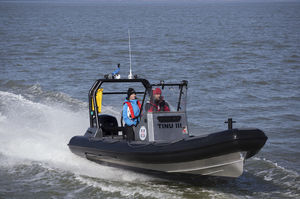 outboard inflatable boat
A 6
Length: 6.5 m
The A RIB series are the most advanced, mostly custom range of the Alunaut brand. The series are based on proven and seaworthy A-Series hulls and are aimed at the professional user as well as the private market. Common ...
See the other products
Alunaut OÜ

outboard inflatable boat
56
Length: 5.2 m
... from passioned professionals, WETTON 56 is the first creation of our design and engineering office. A compact rigid hull inflatable boat, she is able to move autonomously on land, and can be towed by ...

outboard inflatable boat
275RF SPRINT
Length: 2.75 m
Compact Foldable RIB WinBoat 275RF SPRINT (9 feet in length) Compact foldable inflatable motorboat with rigid fiberglass hull (Foldable RIB)The most notable advantages: Compact in size when folded: 2'10"x3'x1'6"/0.85x0.9x0.4m ...
See the other products
TD Aquamarine (Winboat)

outboard inflatable boat
480
Length: 4.8 m
FAREAST RIB 480 is the ultimate version of Far East inflatable rubber boat series. It has smooth and beautiful lines, and enables you to drive safely in extreme sea conditions with its ...
See the other products
Fareast Yachts

hydro-jet inflatable boat
250 / 250X
Length: 2.49 m
... production, but why? Our partner - BURA BOATS is one most respected regional inflatable boats producer. If they are good for so many customers, they are good for us. We select the best ...

outboard inflatable boat
RIB 340
Length: 3.4 m
... excellent RIB: Steno RIB 340 The inflatable PVC balloon that is installed along the perimeter of the fiberglass hull is the main constructive feature of this boat. This construction ...
See the other products
Steno boats

outboard inflatable boat
STRATA 780 SS
Length: 7.8 m
... forward lounge area from a walk through bow, twin consoles and a low sporty profile, the 780 SS is suitable as a tender, a day boat, or fishing and diving companion. Many options are available including inboard, outboard, ...
See the other products
Smuggler Marine 

outboard inflatable boat
C25
Length: 2.51 m
Collapsible design, just open and inflate. Stores in one bag, and has no wooden parts
See the other products
Make Sense Marine Corp DBA Caribe Nautica

outboard inflatable boat
200TC
Length: 2 m
Light, portable and popular. A Kiwi-made icon The Puffin Rollup is compact, light weight and durable, but is easily deflated, rolled- up and stowed for transport. Thousands of New Zealanders have experienced the convenience and longevity ...
See the other products
Southern Pacific

outboard inflatable boat
OSPREY 3.6
Length: 3.6 m
... ideally suited as a small leisure sports RIB or club rescue boat. It shares the deep-v hull design common amongst the larger crafts in the Osprey range, offering a level of stability and comfort rarely ...
See the other products
Osprey

outboard inflatable boat
VOLANTE SD160
Length: 160 cm
The smallest inflatable available on the market! Packed with features and at a great price, it carries a 5 year warranty on material and manufacture. This inflatable boat uses professional ...
See the other products
Excel Inflatables

sterndrive inflatable boat
Six 630
Length: 5.99 m
... suitable for inland and coastal waters. It can be fitted with a fully inflatable tubes or foam D-fender, depending on the purpose. The wide beam and ample deck space make this boat very suitable for ...
See the other products
Essential Marine