How to choose this product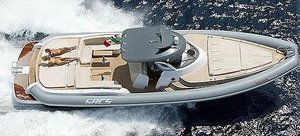 An inboard inflatable boat is a rigid inflatable with diesel or gasoline engine turning a propeller or powering a waterjet system.
Applications
Inboard engines are usually found on larger models. Though heavier than an outboard of the same horsepower, it offers numerous advantages. These craft are practical for watersports because the propeller is beneath the hull, freeing the stern area. This facilitates exiting the water and reduces accident risk.
Technologies
The engine sits along the centerline of the boat and is linked to the propeller shaft. The fixed propeller requires the addition of a rudder for steering. Exhaust pipes exit at the stern. The insulated engine housing is ventilated to avoid the buildup of explosive gases. It often is covered by a stern sundeck.
How to choose
Boat size will depend on desired passenger capacity. It also should be remembered that inboards are more difficult or impossible to trailer, depending on model. Waterjet drive is one available inboard option.
Advantages
- Seaworthy
- More capacity than same size rigid hull
- Less engine noise
- Unencumbered stern
Disadvantages
- Fixed propeller
- Requires trim system
- Difficult/impossible to trailer