In-boom furling systems
How to choose this product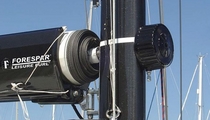 The in-boom furling system uses a roller mechanism to furl a sail, usually the mainsail, within the boom.
Applications
A boom equipped with a roller furling system has the same functions as one without. It holds the foot of the sail fast during maneuvers and facilitates its orientation according to course and wind direction. However, it also stows the furled sail within the boom.
Technologies
The boom is attached to the mast via a gooseneck; the foot of the sail is bent to it at tack and clew. Materials vary with boat type. Racing craft often have carbon fiber booms. These systems enable the sail to be stored within the boom when not in use.
How to choose
Choice will primarily depend on type and size of vessel.
11
companies |
24
products (boat or nautical equipment)
Sailboat
SOUTHERN

Southern Spars
Two years in the making and Southern Spars Generation 2 Furling Boom is now out on the water. New Zealand built 51m performance sloop Kokomo 3 was the first superyacht to benefit from Southern's...
Sailboat
COASTAL

Forespar
Heavy weather in-boom furling & reefing for sailboats 26' - 35' Maximum luff (P)=40' Maximum foot (E)=14' This powerful boom system incorporates...
Sailboat aluminum
OFFSHORE

Forespar
The smart choice - Worldwide recognized leader for in-boom systems for boats 33' to 85'. There are over 3000 systems in use making passages all over the world's oceans in all sea conditions. With over...
Sailboat
Schaefer
Boom Furling system is only available through a trained technical group of installers...
Sailboat
GMT
New GMT in-boom furling system is light, sleek and incredibly neat GMT's new in-boom roller-furling combines engineering refinement, weight reduction and aesthetics. Our carbon composite furling...
Sailboat
Offshore Spars
Any time sail handling is a challenge furling booms are a great solution. An internal mandrel spins by either hydraulic or...
Sailboat
Jeckells
Sailtainer - the complete mainsail system.Sailtainer is an integrated mainsail system, providing safe and comfortable sailing in any weather. With Sailtainer, it is easy to hoist, furl and reef the mainsail...
Sailboat carbon
CARBOMAX

Maxspar
Maxspar has developed a new boom which can start life as a Park Avenue boom for a full batten main sail and at a later date easily transformed into a motorised furling boom without...
Filter by :
› New products

(1)

› Products with video

(4)
Extend the search
Search by manufacturer
Search by catalog