How to choose this product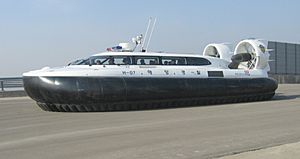 A hovercraft rides on an air cushion. A turbine-driven propeller pushes it forward. It does not fly, but is supported on the airflow passing beneath its rubber skirt.
Applications
Recreational models can carry a few people, while commercial versions are designed for passenger transport. Its amphibious capabilities make it suitable for military operations.
Technologies
A blower maintains lift by creating an air cushion which passes beneath a flexible rubber skirt whose shape varies with the terrain. Forward movement is generated by deck propellers protected by wire cages.
How to choose
Choice will depend on intended use. Very large hovercraft serve as passenger ferries and in other commercial uses. However, there are also smaller models for private use.
Advantages
- Operates on land, water and ice
- Minimal draft and high speed
- Operates without port infrastructure
- Can be used in rough seas
Disadvantages
- Blocked by large obstacles
- Lift and drive require powerful motors