How to choose this product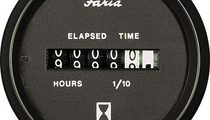 An hour meter indicates the total operating time of an engine.
Applications
This device is useful for keeping track of regular engine maintenance requirements such as oil and filter changes. It also tells the prospective buyer of a used boat the amount of wear on the engine.
Technologies
The hour meter is often part of the tachometer, since both use the same sensor, usually connected to the alternator. Operating time is indicated by numbers on a roller or on a digital display, often LCD. The more precise models measure tenths or even hundredths of an hour.
How to choose
For vessels without a separate tachometer, choice of a combination gauge is recommended. As in automobiles, some models include a separate trip indicator which can be reset to zero. This feature can be used to keep track of run time since the last oil change, for example.