pneumatic horn
DHR THREE-TONE
... Chrome plated brass horn Stainless steel base and membrane housing Air consumption 1,5 – 2 l/s at 1 tot 2 bar This is an electric air horn, which means that a small compressor is needed in order to ...

pneumatic horn
DHR SINGLE-TONE
DHR Single-tone Application - For vessels in Rhine and (European) Inland navigation - For small seegoing vessels Approval - Tested by TNO, Dutch institute of Applied Physics - Complies with the German regulations for "Seeschiffahrtstraßen" - ...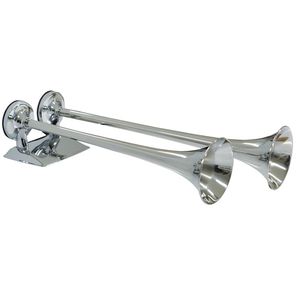 ... low air requirement for dependability and long life. Mounting pad and hardware included. Designed for use with choice of air horn kits. See specifications below. Aftermarket units are shipped in attractive packaging with FIAMM name
See the other products
Fiamm Spa

Designed, engineered and manufactured by Fiamm. The ultimate in contemporary styling and made with the very finest quality components. Entirely of stainless steel for outstanding protection from saltwater.All models are tuned for an ...
See the other products
Fiamm Spa

The Naval Siren is equipped with an electronic whistle and a voice amplifier. It is used for boats between 12 and 20 m in length. The kit includes a button for whistle activation, an electronic switchboard with an A/B class amplifier ...

. Specially designed for marine application . With two inputs where using each one, different tones and frequency can be chosen by dip switches. . Each siren comprise electronic unit and one or more loudspeakers . Each additional loudspeaker ...
See the other products
Inelteh d.o.o.

digital horn
ITES-M-230 / ITES-M-24
. General purpose siren . One of 32 different tones can be selected using dip switch . Adjustable output level, using inside mounted potentiometer . Sound pressure level 107 - 116dB depending of using tone Example: continous 500Hz, ...
See the other products
Inelteh d.o.o.

Z55 electric marine horn is applied for ship or boat lenght less than 15 meters. Specification: Frequency:630Hz Sound Pressure:111dB(1 meter distance) Effective Sound Range:500 meters Operation Voltage:DC12V Operation ...
See the other products
MA Safety Signal Co.,Ltd.

electric horn
131dB | ST-7300
ST-7300 Electric Marine Horn incorporates three main functions,marine horn,cabin interphone and general alarm.It has advantages of high acoustic pressure,comprehensive functionality,high reliability,long ...
See the other products
MA Safety Signal Co.,Ltd.

... IEC Fixed signal tone Volume max. 105 dB(A) / 1 m Signal Horn Series 8491/1 With trumpet and flexible lead For use in Zone 1 and Zone 2 Signal Horn Series 8491/2 ...