How to choose this product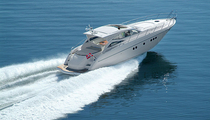 A hardtop yacht is one with a rigid shelter over the cockpit or bridge.
Technologies
The term hardtop comes from the automobile industry and designates a rigid roof, including those that swing or slide open. Hardtops can be solid or perforated, with manual or electric opening systems. Most are made of composites to avoid excess, destabilizing weight high on the boat. Large vessels may have steel, aluminum or wood hardtops.
How to choose
Choice will depend on size, number of persons expected on board, intended use and the possible need for a professional crew. Engine power and hull type (displacement, semi-displacement or planing) will determine speed and type of sailing. Construction material is another factor, each offering advantages and disadvantages. Range is a key consideration in trip planning. Some long-range cruisers can sail over 10,000 nautical miles, while high-performance models may be limited to barely 200.
Advantages
- Rigid, aerodynamic structure
- Sun and rain protection
Disadvantages
- Increased top hamper
- Obstructs upward and sideways view
- Not removable