The Online Boating and Maritime Exhibition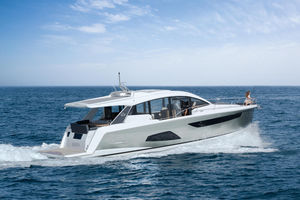 cruising motor yacht
C530
Length: 16.13 m
... with the new Sealine C530! Two electrical sun-roofs, a panoramic view in the saloon and a top speed of 34 knots are just a view features that make this motor yacht irresistible. Space, air and light follow ...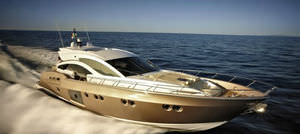 Length: 21.04 m
Elegance and power are its distinguishing features. , inspired by the lines of the sporty cars of the 60s. The atmosphere of the interior, characterized by a new dimension of livability, has been conceived to evoke a domestic setting ...
See the other products
Sessa Marine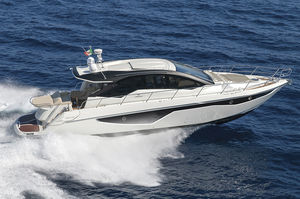 cruising motor yacht
60 HT
Length: 18.49 m
LENGTH OVERALL APPROX.60 ft 8 in BEAM MAX APPROX.15 ft 10 in DRAFT (INCL.PROPS) APPROX.4 ft 3 in HEIGHT ABOVE WATERLINE17 ft 8 in CONSTRUCTION HEIGHT9 ft 5 in DRY WEIGHT APPROX.51.800 lbs PASSENGERS AND WEIGHT APPROX.14/3.090 lbs FUEL ...
See the other products
Cranchi

cruising motor yacht
C52 COUPE
Length: 15.78 m
The New C52 Coupe. Everything you want in a Coupe and so much more. Carver Yachts is continuing to blaze new trails in the mid-size luxury yacht market with the introduction of its new C52 Coupe. With ...

cruising motor yacht
SUNDANCER 510
Length: 15.49 m
There comes a peace at the very center of everything, when the world pivots around you in perfect balance. Some people spend a lifetime trying to find this spot. Others simply settle into the solarium-like covered cockpit of the Sundancer ...
See the other products
Sea Ray Sport Yachts

Length: 17.07 m
... and twin guest cabin to starboard – below deck. Powered by Volvo IPS 950 engines, she will attain a top speed of 32 knots for the ultimate sport yacht experience.

Length: 19.3 m
... world of boating luxury Riviera's stylish and sophisticated 6000 Sport Yacht is the ultimate on-water entertainer. This sleek design is widely acclaimed as a high-performance yacht akin to a six-star ...
See the other products
Riviera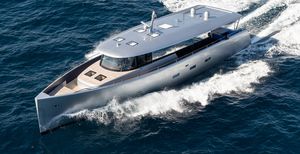 cruising motor yacht
M78 BILL AND ME
Length: 23.9 m
... this, linked with the light, stiff hull and deck shell manufactured by Baltic Yachts should result in an outstanding yacht. Bill and Me's narrow beam is fundamental to the yacht's ...

Length: 19.42 m
... of functionality dressed in powerful form, the X Series is here to reimagine the traditional idea of the conventional sport yacht concept. The result is nothing less than extraordinary. Maritimo fuses its performance ...
See the other products
Maritimo

cruising mega-yacht
SUNNY
Length: 30.48 m
... Class Inspection Date: 10/01/2018 Stabilizers: Standard Thrusters: Yes Trailer: No Designer: Hargrave Yacht Design Builder: Hargrave Custom Yachts
See the other products
Hargrave Custom Yachts

cruising motor yacht
fiftyywo
Length: 15.8 m
... Displacement: Mazu Yachts 52 is a superyacht chase boat with a huge deck spaces to welcome crowded guests on board. The 16-metre vessel is also can equally operate independently as a personal yacht ...
See the other products
Mazu Yachts

cruising motor yacht
APEX 60
Length: 18.13 m
A NEW LUXURY DAY TENDER Designed to offer the perfect combination of performance, stability, comfort and elegance, the APEX 60 is the embodiment of our philosophy. The sleek and aggressively sporting exterior lines convey an understated ...

cruising motor yacht
MODERN
Length: 18.05 m
... dream; designing and building your own dream yacht entirely in accordance with your wishes. Jetten Shipyard makes your dream come true, as it is a proven expert in this field. The construction of a Custom Yacht ...
See the other products
Jetten Jachtbouw

Length: 19.16 m
GOODBYE BOUNDARIES Freshness, comfort and cheer were the guidelines in conceiving the internal layout of the Numarine 62. The three guest cabins all have ensuite toilets, while close attention was paid to the full beam owner's suite, ...
See the other products
Numarine

cruising motor yacht
1500 CS
Length: 16.7 m
... Rhine Patent!) Beam:ca. 4.75 m Draft:ca. 1.20 m Creep height:ca. 3.48 m Engine:from 1 x 180 HP CE-classifictation:A (ocean) Top speed:ca. 10 kn Cruising speed:ca. 7 kn
See the other products
Jachtwerf De Boarnstream

sport motor yacht
510 SKYDECK
Length: 16.2 m
... further with its innovative top deck design. The ability to combine the advantages of the classic flybridge and the distinct, sporty look of the hardtop are unique to the Galeon SKYDECK line, and earned this model a 2016 ...

cruising mega-yacht
Aurora
Length: 49 m
... planing 49 meters aluminum yacht characterized by innovative architectural solutions and large spaces usually expected on a displacement yachts.The designer Fulvio De Simoni, at his first cooperation ...

cruising motor yacht
Velsheda 50'
Length: 16.65 m
... Nicholsons Yachts is synonymous with the world of yachting. Since yacht and boat building commenced at Camper & Nicholsons back in 1782, some of the finest and most famous yachts in the ...
See the other products
Camper & Nicholsons Yachting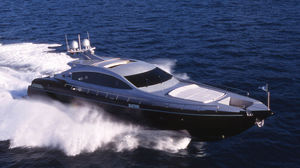 cruising motor yacht
M/Y JET
Length: 26.6 m
Yacht with sleek line that is characterized by a dark blue hull that creates a stark contrast with the white colour of the superstructure. Thanks to its two powerful engines MTU 16V 2000 M91 is able to reach a top ...

cruising motor yacht
GLADIATOR 901
Length: 27.45 m
... conditions.Unlike any other yachts in the category, the 901 Gladiator not only delivers amazing speeds, she can sustain fast pace in formed seas! And for the most speed addicted, the triple engine version offers a mind-boggling ...

high-performance motor yacht
58
Length: 17.7 m
AB 58 is dedicated to people who love strong emotions: breath-taking turns, incredible acceleration and navigation in shallow water without sacrificing safety are the points of strength of this purebred. The interior furnishings are completely ...
See the other products
AB Yachts

high-speed motor yacht
50.5
Length: 16.25 m
Salpa 50.5 Technological innovation applied in the construction of Salpa 50.5 consists in using the "infusion" (infusion vacuum) technology not only for the hull but also for all the structural components. The result of using this technology ...

Length: 23.2 m
... The most highly advanced technology is used in every detail on this magnificent yacht. The BLADE compromises high speed with ultra luxury accessories. This tempting yacht got comfortable accommodation ...

cruising super-yacht
M/Y DOUBLE SHOT
Length: 36.5 m
Designed by Greek designer Ioanna Marinoupolos in collaboration with the style of the group, Doubleshot is a super yacht of 36 meters only for very high build quality. White hull is decorated with three horizontal stripes ...
See the other products
Tecnomar

cruising motor yacht
48 IN
Length: 15.25 m
For high performance enthusiasts who do not want to sacrifice comfort. 3 cabins, plus the sailor's cabin, a planing speed of 11 kn, a cruising speed of 38 kn and a maximum speed of 44 kn Unladen displacement 18.00 t 39683 lbs Draft ...