How to choose this product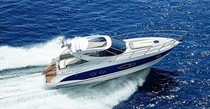 A hardtop boat features a rigid roof over the helm which leaves the aft of the cockpit open. Some hardtops can be opened.
Technologies
The term hardtop is borrowed from the automotive world, where it refers to a body type between that of a sedan and a convertible. Similarly, hardtop boats combine aspects of open vessels with those of boats with a completely covered deck. The hardtop is a structural element sheltering and partially enclosing the cockpit while leaving it open astern.