How to choose this product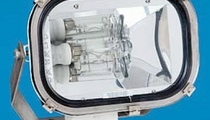 A halogen deck floodlight provides high-intensity nighttime illumination. NauticExpo offers different types for boats and ships. They are also classified by power: <250 W, <500 W, etc.
Applications
These floodlights are designed to provide high-intensity lighting on deck, be it for work or for aesthetic purposes. They are found on yachts, fishing boats, recreational craft, ships, tugboats and nearly every other type of vessel.
Technologies
Such devices produce light by heating a filament, usually of tungsten, surrounded by an inert gas containing small amounts of a halogen, generally bromine or iodine.
How to choose
Intended use will determine choice of floodlight. For aesthetic purposes, small, low-power lights suffice. Illumination of work areas requires higher intensity lighting.
Advantages
- Combines high intensity with small size
Disadvantages
- High energy consumption