How to choose this product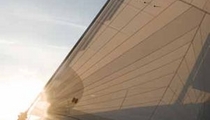 A racing genoa is a multifunction headsail used in light-to-medium winds on any point of sail from a beat to a reach. Generally, its tack lies abaft the mast, the degree of overlap expressed as a percentage.
Applications
These sails are used on racing sloops and cutters with keels.
Technologies
The genoa is the multipurpose sail par excellence. It can be used on any point of sail, unlike codes, spinnakers and gennakers, which are for reaching and running only. Genoas can be cross-cut or tri-radial. The latter offers better performance, since the hollow shape of the sail is more evenly distributed over its entire height. Genoas can be used with roller furling, a hollow stay or hanked on.

Dacron, less expensive but stretchier, is commonly used to make genoas. Modern composites like carbon fiber, Mylar®, Kevlar®, Pentex® and Cuben® fiber are lighter and stiffer. These materials can be sewn, but sails are often created by 3D molding, more costly but providing better performance.
How to choose
Choice will depend on mast height, stay hoist, rig type (masthead or fractional) and the tack-to-mast distance. Existing genoa tracks will indicate the overlap. Class racers must adhere to rules governing maximum genoa size. Sail bending method, whether roller, hollow stay or hanking, also will play a role.