How to choose this product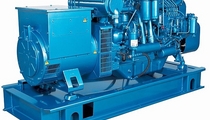 A yacht generator set uses a motor adapted for use at sea to drive an electrical generator sufficiently powerful to meet all the vessel's energy needs.
Applications
Yachts need generator sets to power the on-board 110/220 V system, including outlets, air conditioning, hot tub, hydraulic equipment, galley appliances and other electrical devices.
Technologies
An internal combustion engine, usually diesel, drives a generator which converts mechanical to electrical energy. This is then distributed throughout the system via the various breaker and control panels. While smaller models are housed in soundproof cases, large sets are installed in the yacht's soundproofed engine room. Capacity is determined by the vessel's electrical needs, some requiring more than one generator set.
How to choose
Choice will depend on the yacht's overall needs. Multiple generators offer the advantage of not wasting production capacity when needs are low. Sets of different size allow adapting output to differing circumstances: at anchor, during delivery, on charter, etc. The manufacturer's service network should be sufficiently developed to afford ready access to parts and maintenance wherever the yacht may sail.