How to choose this product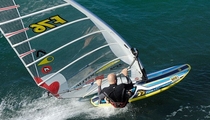 The freeride board was developed to facilitate access to windsurfing. Its configuration facilitates planing starts and maneuvering.
Applications
These boards are particularly suitable for calm water and long, straight runs in all conditions, but especially when wind and sea state are favorable. Their easy planing starts, good stability, tracking and maneuverability make windsurfing as enjoyable as possible.
Technologies
Shorter and wider than in the past, freeride boards open the sport to nearly everyone. With a displacement of 90 to 160 liters, they offer stability in a wide range of conditions. Planing starts, speed, control and maneuverability are facilitated by even distribution of the board volume over its entire length. These boards are equipped with four foot straps.
How to choose
Easy planing starts and maneuverability allow beginners to enjoy windsurfing from the start. Rounded rails (edges) make jibing a less delicate maneuver. The experienced rider can easily switch to a board with racier lines and less displacement. Board volume should vary inversely with wind strength.
Advantages
- Ease of use
- Immediate pleasure
Disadvantages
- Limited performance characteristics
- Unsuitable for high winds