How to choose this product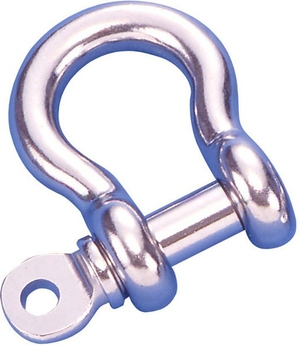 A forged shackle is a roughly U-shaped, round-sectioned metal fastener closed by a threaded bolt or clevis pin. It is used to connect or anchor fittings and lines aboard a vessel.
Applications
Shackles are commonly used to:
- join anchor to chain (bow shackle).
- hold fast the mainsail tack.
- fasten safety and lifelines on deck or aloft.
- connect shrouds to chainplates.
Technologies
Most shackles are stainless steel, though some are of galvanized steel. Shape varies with use, and includes D, twist, bow and other shackle forms. Generally, a forged shackle with a round section is stronger than a stamped model with a square section. Closure systems include threading and cotter pins. The shackle pin usually has a hole in its butt end so it can be moused, or wired to the shackle for added security.
How to choose
Choice will depend on expected working load and specific use. For example, a bow shackle can handle a wider range of load angles than a D shackle, making it more suitable for anchor-to-chain connections.
Advantages
- Sturdier than a stamped shackle
Disadvantages
- Heavier than a stamped shackle
- More expensive than a stamped shackle