How to choose this product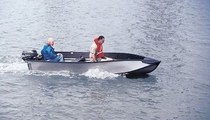 A folding boat is usually an inflatable craft. However, some are rigid-hulled canoes, kayaks, launches and rowboats made of aluminum, wood or composites.
Applications
These craft are generally small, with low freeboard. They are easy to transport, but are suitable for calm waters only.
Technologies
Inflatables are foldable once deflated and the floorboards removed. Rigid versions that fold in half are simpler to trailer or carry on a car roof. Those that fold flat in several segments can be transported and stored even more easily. These craft are rowed or equipped with small outboards. The crucial factor is ensuring watertight seams.
How to choose
Carrying capacity should be considered, as well as total folded weight. Despite industry efforts to make them lighter, some remain quite heavy.
Advantages
- Easy transport
- Compact stowage
- Can be launched almost anywhere
- Meets standard stability norms
Disadvantages
- Often relatively heavy
- Can handle only small motors