How to choose this product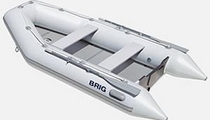 A folding tender provides transportation between the shore and the main vessel. When folded, it can be stowed within the vessel, leaving deck space free.
Technologies
Most of these craft are inflatables, though some have a folding rigid hull. Inflatable models have an inflatable floor or one consisting of slats, wooden boards, aluminum or plastic honeycomb panels.
How to choose
A rigid floor improves seaworthiness. The manufacturer will recommend the appropriate motor size. This factor is particularly important for those who anchor where winds and currents are strong.
Advantages
- Easy stowage after folding
Disadvantages
- Limited motor size
- Assembly/disassembly can be tedious