How to choose this product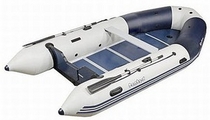 A folding inflatable boat consists of inflatable pontoons with different types of floor. Most are less than seven meters long.
Applications
Folding inflatable boats make practical, compact leisure craft tenders. They also can be used as beach-side fun craft or for near-shore diving. They are not approved for offshore use.
Technologies
These craft are either entirely inflatable, including the floor, or have removable rigid floor panels. Flooring can be of wood, aluminum, composite or plastic. Inflatables can be rowed or powered by an outboard. Most are made of neoprene and PVC or of Hypalon®. Construction methods favor lightweight materials and reinforcement of wear-prone areas at the junction of inflatable elements and rigid flooring. Today's materials stand up to even the harshest conditions.
How to choose
Choice will depend on the number of passengers to be carried and intended use. Some models are easier to assemble or disassemble than others.
Advantages
- Easy to transport when deflated
- Significant load capacity
- Light and stable
- Fast even with a small motor
Disadvantages
- Passengers exposed to spray
- Subject to drift