How to choose this product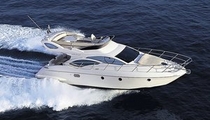 Flybridge express-cruisers are closed-deck crafts. NauticExpo classifies crafts as such when they measure between 9.5 m (31 feet) et 15 m (50 feet) so as to differentiate them from other similar categories. Flybridge express-cruisers feature a rooftop piloting station.
Applications
Flybridge express-cruisers offer optimum visibility via the rooftop piloting station, which makes them ideal for fishing.
Technologies
The flybridge can be a small cockpit installed atop the craft's roof or a covered, wider unit forming part of an equipped balcony. A supplementary steering station can be situated inside, which allows to keep away from harsh conditions and enjoy the sun.