Floating walkways
How to choose this product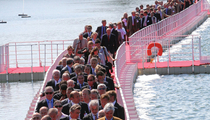 Floating walkways allow pedestrians to traverse waterways in ports and marinas. Unlike floating docks, they are not designed for mooring vessels.
Applications
Such walkways can be used connect two parts of a marina separated by a canal or an inlet, for example. They are also suitable for lake and inland waterway developments.
Technologies
These structures resemble fixed docks and walkways in that they may feature handrails, lifebuoys, lighting pedestals, water spigots and other equipment. They are generally supported by watertight floats made of laminates. The upper works are aluminum with an appropriate walkway surface.

They can be connected to the seabed by a system of main and auxiliary chains or by metal posts. Many consist of modular units which can be easily interconnected to follow a specific route or create a network. Most manufacturers offer custom-designed walkways to suit the needs of a particular project.
How to choose
Choice will depend on the specifications of the particular project and the characteristics of the installation site.
9
companies |
21
products (boat or nautical equipment)
EZ TRAIL

EZ Dock
Make Your Nature Areas Accessible To All. The EZ Trail® system from EZ Dock is a smart way to create accessible ramps and pathways in your woodland, wetland, or any other place you need a safe and...
Metalu Industries International
Our floating gangways are designed using floating dock and fixed bridge technology. The structures and dimensioning calculations are identical and...
Cruas

Atlantic marine
Besides floating pontoons, Atlantic Marine is able to answer all your requests for...
Inland and Coastal Marina Systems Ltd.
The Finger Walkway System is similar to our standard marina walkway comprising of glassfibre reinforced concrete decking inserted into galvanised steel frames floating on glassfibre reinforced concrete...
Refine the search
Floating walkways
Extend the search
Search by manufacturer
Search by catalog