How to choose this product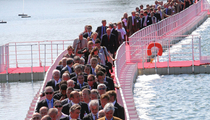 Floating walkways are port or marina units allowing pedestrians to cross water bodies. Unlike floating pontoons, they cannot be used to moor crafts.
Applications
Such walkways allow to connect two marina sides separated by a canal, for example. They can also be used for lake and interior waterway development.
Technologies
Floating walkways use buoyancy systems comparable to those of pontoons and fixed gangways.

They can feature handrails, lifebuoys, post lamps, water fountains, etc.

Floating walkways are generally made of laminated, watertight buoyancy tanks, and are covered by aluminum structures and flooring units. They can be connected to the water-bed via chain systems or metallic stakes.

They are often modular and can be easily interconnected so as to create specific routes or networks.

Most manufacturers can create custom-designed walkways.
How to choose
Discuss the project, scope statement and area of installation.