How to choose this product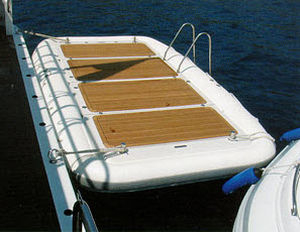 A floating platform can be used as a pedestrian walkway, a base for solar panels, to facilitate water access for swimming or for other waterside functions.
Applications
While platform uses are many and varied, their basic function is to provide access to the water and to serve as passageways and structural supports for solar panels and other waterside equipment.
Technologies
Such platforms are generally composed of floating modules assembled to fit project parameters. There are both rigid and inflatable versions. They can be chained to a mooring lying on the bottom or tied alongside a dock. Some include guardrails, swim ladders or other features.
How to choose
Specifications will depend on project needs and site characteristics. Platform design and aesthetics should be chosen to fit into the surroundings.