How to choose this product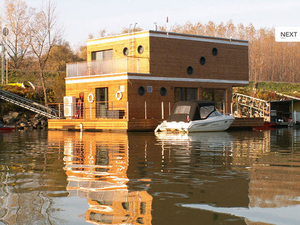 A floating house is a home or an office built on a floating platform.
Applications
Such structures are particularly suitable in unstable or marshy areas, or where rocky terrain is too hard for traditional construction. Lacking engines, they are towed to their installation point, an advantage where there are no access roads. When used as clubhouses or offices for a yacht club or similar organization, they put personnel at the heart of the action, while freeing space ashore for other uses.
Technologies
Most such houses are built using techniques similar to those used ashore. Wood is common, but builders increasingly integrate glass and modern, environmentally sound materials such as hemp. Attention to ecological concerns is particularly important for floating houses, which are often installed in isolated locations and wilderness areas.
How to choose
The first element to consider is location. Permits for shoreline installation and other authorizations must be obtained from the appropriate government bodies. As with similar land-based structures, these houses can have multiple bedrooms, a living room, a kitchen and other features.

Some builders offer personalized plans using the services of an architect. Though more expensive, this option results in a home tailored to the client's desires. The design can include a private dock, a welcome addition for boat owners.