How to choose this product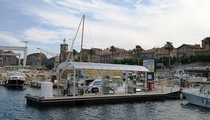 The floating fuel dock is a port facility for refueling small craft in marinas and small boat harbors.
Applications
Floating fuel docks are found in small craft harbors.
Technologies
Floating fuel docks are equipped with fuel pumps and fenders for protecting the dock and moored vessels.
How to choose
Choice will depend on the types of vessel to be served, platform dimensions, number of pumps, supply line configuration, etc.